Contact Us Today
"*" indicates required fields
Business Storage London
Business Storage, no problem.
Do you need to store your office equipment, furniture, or business supplies? Nifty Business Movers is the answer. We offer flexible terms, safe and secure business storage, and low rates. Call today to find out more!
Businesses rarely have unlimited space. Often, some businesses need Business Storage London. In locations like central London, additional space costs money. However, our business storage London services might be more cost effective than you think. See how Nifty Business Movers storage service can benefit you.
Business Storage in London
Nifty Business Movers offers local business storage for businesses in London. With flexible terms and low rates for a variety of different services, we have everything you need – there's no need to search any longer! Our storage facilities are all inspected regularly to ensure compliance with industry standards. Quality is our priority!
Options for small and large-scale businesses
Whether you're a small business or a large corporation, Nifty Business Movers has the space for you. Contact us today to learn more about our storage services
Nifty Storage Cost Calculator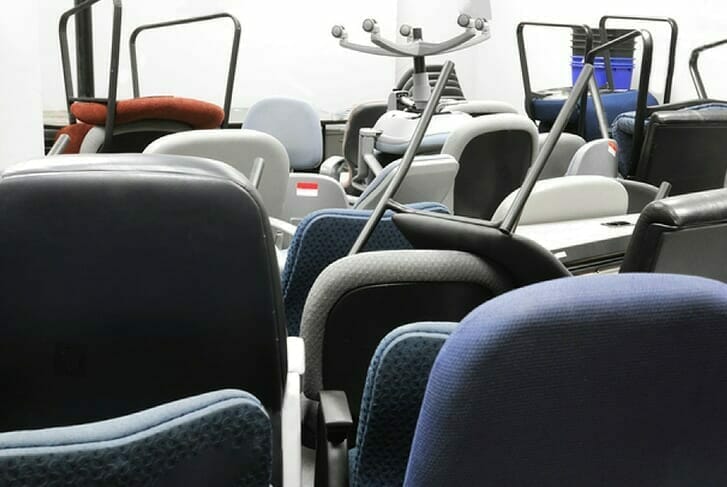 Are you paying for unused space on a fixed-term contract for Business Storage in London?
If so, we can save you money.
Nifty Business Movers provides a fully managed, business storage facility in London. We can help you store your business files, from one box of papers to suites of office furniture and retail displays.
In addition, we take excellent care of your items and Nifty Business Movers will move your items wherever you wish.
Therefore, our business storage London service might be right for your business.
Storage for businesses
Following the pandemic, many companies are looking to downsize and need some business storage in London. If you're looking for business storage, we can help you.
We have the ability to store anything from business files to business furniture and everything in between. In addition, we can help you organise your business storage to suit your needs. Servicing businesses all across London, whether you're north or south of the river, our local team can help you access your business documents or furniture when you need them. Your peace of mind is so important to us, therefore, we have the right security in place for all of your business belongings. If you need business storage in London, we're the right people to support you.
All of your business possessions will be itemised and you'll have a full inventory of the items you have in our business storage unit in London. Finally, you can be confident that all of your items are safe and secure in our business storage London.
Using our business storage London allows greater flexibility for items that aren't needed day to day or if you're reducing your office space due to hybrid working.
How our London Business Storage Works
Firstly, we will discuss and survey the items that require storage. Furthermore, we will provide an accurate quote based on the volume of storage.
In addition, Nifty Business Movers will collect the items at the time we agree. Before the removal of the office furniture, we will create an inventory on-site.
Secondly, following our inventory, we will then transport the items to our secure warehouse near London. Without delay, the team will check the inventory and transfer all items to the container, racking, or floor space we allocate to you. In the meantime, a copy of the inventory is emailed back to you for reference.
On request, inventories can include photographs, descriptions, and dimensions. In essence, whatever makes the identification easier for you, we will do our best to achieve it.
When necessary, we retrieve the select items from the consignment and deliver you. Typically, request for next-day delivery, however, two-hour express delivery is available.
And so, the money-saving part.
Better than self-storage
In contrast to self-store, Nifty Business Movers has no minimum contract period and no minimum volume for managing storage. You only pay for what you store! With this in mind, it's usually the cheaper option.
All in all, you can save time by using Nifty Business Movers to retrieve your items. Furthermore, our in-house delivery minimises transportation costs. You can also use the scanning service to receive documents in minutes.
We fully insure all items from the point of collection to return.
In addition, we can also provide furniture storage, delivery, and installation service, which isn't available from office furniture manufacturers or delivery companies.
Lastly, by providing you with the whole service, it saves you time and money.
Business Storage in Canary Wharf
Business Storage in City of London
Business Storage in Croydon
Business Storage in London Docklands
Business Storage in Holborn
Business Storage in Westminster
What is Business Storage?
Business storage offers a facility to businesses to storage their belongings. For example, office furniture, business files and anything else a business would like to keep, but space is limited. Some businesses use business storage facilities in London to reduce the amount of things that take up unnecessary space in their offices. Business Storage is also known as business storage or office storage.
Types of Business Storage Services
Container Storage
Ordinarily, Office furniture storage is in large crates/containers. However, our high-bay warehouse makes office furniture storage very cost-effective. Furthermore, items are easily accessible and tracked with electronic inventories. Unlike self-store, your storage items are charged by volume, rather than a fixed volume for the duration.
Archive Business Storage
Similarly, we offer a full record management solution for documents, files, and data. Including scanning and retrieval. Our archive storage will create valuable office space, saving you time and money. Nifty Business Movers document storage system has barcode technology to track and retrieve items efficiently.
Pallet Business Storage
If you have larger items unsuitable for container storage, our racking system can off you a secure pallet. If necessary, we will wrap items for protection.
Loose Business Storage
Not everything is suitable to store in containers or on pallets. For instance, very large items are stored loose, with adequate protection until you require them.
Trade Business Storage
In addition, high volume warehouse storage rates are available for your container, alternatively, we can provide containers for you.
So, if you need a business storage specialist in London and to move your business furniture, look no further. We can provide a reliable business storage service for you. Why not take a look at what some of our customers have to say about our business storage London.
Need an alternative to Business Storage?
Nifty Business Movers provides a wide variety of office furniture clearance services. From helping you remove unwanted office furniture, to recycling safely and in accordance with WEEE regulations, we can help you move your office in no time.
Efficient and safe furniture removal
We offer professional office furniture removal and disposal services so that you don't need to worry about the hassle of going through the process yourself!
Recycling your old office furniture
We love the environment too! Nifty Business Movers offers recycling services for your old furniture so that you can be sure that it is disposed of responsibly.