Contact Us Today
"*" indicates required fields
Office Removals (London)
Are you looking for one of London's leading office relocation companies to relocate your business to new premises in London? If so, we are an established office removal company in London, therefore, our service will make your office move simple and easy. Nifty Business Movers aim to minimise your business downtime during your office relocation, and as a result saves you time and money.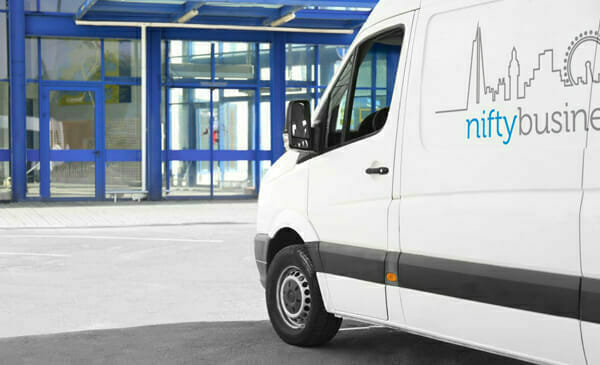 Nifty Business Movers specialise in office moves London and are here to help you. We have assisted with many business and office relocations in London, and as a result, we are confident in moving companies of all sizes. In addition, our team of office removal specialists understands London like the back of their hand, making your office move simple and easy.
Office Removals Company London
Based in London, we offer a cost-effective office move service which includes free crate hire and free insurance. As the experts in office removals, we can advise you on how to keep your costs down including advice on logistics, parking, and access restrictions without compromising the quality of service we offer you.
Nifty Business Movers offer a free, no-obligation office removal survey and same-day quote (usually!). Our survey ensures that we can offer the right removal service for your needs, including the right people, vehicles, and packing materials. Therefore, it makes your business move as smooth as possible. In addition, our survey ensures you don't have any hidden costs when we provide you office move quote.
Finally, we pride ourselves on being reliable, and professional and we cater to each of our customer's individual needs.
So, if you are you looking for a reliable Office Removals Company London to relocate your business in London we have an experienced team who have been moving offices within the M25 for over 15 years.
Office Relocation Companies In London
Many office relocation companies have hidden costs, but we're different. When we provide a quote to relocate your business we have no hidden cost. Similarly, we understand finding a reliable, professional, and trustworthy office relocation company in London can be hard to find. Especially if you have been assigned the task of your company's office relocation. That's where we are different.

While we've been moving businesses, offices, and companies for over 15 years, we still understand that every office relocation is different. That's why we tailor each removal survey and quote to the individual needs of our customers.
Our Office Relocation Service
Our office relocation service helps businesses within London move across London. Many Office Removals companies do not know about relocating business across London, that's where we're different. We are one of the leading Office Relocation Companies in London.
Firstly, our office relocation service team is reliable, experienced, and trustworthy and our primary aim is to get your business back up and running as quickly as possible.
Likewise, our office relocation service takes away the stress of moving all of your office equipment, including your IT systems during your office move. Also, in the event you need to dispose of your office furniture, we can help with office furniture clearance or additional business storage in London if you require it.
Likewise, if you need a full team of London office relocation experts, or just a helping hand to move your business items with some extra pairs of hands, we're here to help. We've also written some office relocation top tips to help you along the way.
Get in touch today and find out more about our office relocation services in London.
Do I need to use an Office Moves Company?
The benefits of using a dedicated office removals company are endless. Having a specialised team move your office furniture and equipment ensures you're business doesn't suffer any loss of earnings. Therefore, you can still service your customers. Moving an office is completely different from domestic, house removals. It takes a good plan, organisation of many different people and equipment, longer timescales, a large budget, additional packing and last but not least important equipment on a larger scale.
Why use an office removals service in London?
London is the capital of the UK and has many limitations. Therefore, using a London-based company to manage your office relocation has many benefits.
Firstly, when relocating and moving an office within London, the removal company needs experience and the ability to navigate the metropolis. The benefits include:
Congestion charges – We include these in the price that we quote to move your business in London. We have no hidden costs.
Insurance – We offer compensation cover which is essential when moving. We will reimburse you for any damage to your property.
London know how and navigation
Costs – all inclusive costs and competitive prices
Office Removals Company Survey and Quote:
We always offer a fully comprehensive office removal survey and quote. As a result, there will be no unexpected costs further down the line. Our survey includes:
Parking access with no restrictions and use of lifts (at all addresses)
Details of the amount of office furniture we need to move, dismantle, and reassemble
What materials we need to move your IT equipment in a safe and secure manner
Details of the amount of filing/paperwork/stationery and other items
Any whiteboards, noticeboards, TVs, and artwork to move and re-hang at your new company office.
Disposal of any current furniture that you do not want to take with you. Tell us about your old furniture and if it's of reasonable quality we might even buy it from you! If not, we will recycle it for you, so nothing goes to the landfill to help with your company's sustainable disposal policy
Details of any packing services you require – you can pack yourself or we can pack and unpack for you.
Office Relocation & Office Removal Top Tips
Pack your Equipment Carefully
Preparing your IT equipment should be at the top of your list when it comes to keeping your data safe during an office relocation. Therefore, your IT department should be involved in the move from the start to ensure everything is planned for. This includes disconnection, packing up all cables together, and reconnection in your new office.
Take your time to Plan and Budget
Fail to plan, plan to fail when it comes to office removals.
Set your goals, timescales and finances as soon as possible. Having a contingency budget is always useful to cover any additional expenses for packing, storage, and cleaning products. Getting the most out of your budget during an office relocation is the most challenging part. We always suggest that you consider the 'must', 'nice to have' and 'can do without' – using red, amber, and green to identify these key aspects when moving offices.
Get everyone on board with the Office Move
Getting the buy-in of the office relocation from your employees before you move is essential to make the move as smooth as possible. It also helps with employee transition. Many tasks will need to be distributed throughout each team, usually your IT team have the most important task of getting your business up and running in your new office. Over the office relocation period, it's not unusual for businesses to discourage taking holiday to get all hands on deck with the office move.
Business Storage
Business storage could be a good option for your business if you're move is last minute. This could help you if you're unsure what you need to take with you to your new office. In addition, this gives you the breathing space you might need, knowing all your business equipment and files are being stored safely and securely.
Why choose Nifty Business Movers for your office move?
As far as office relocation companies go, we're up there with the best. See what our customers say about us and whether they recommend our office removal and office relocation services. We promise to save you time, money, and hassle.
Whether your office move needs IT relocation, crate hire, business storage, office furniture clearance, or some extra pair of hands to pack your business up, our trustworthy team can help. We have IT, specialists, on hand to disconnect and reconnect all of your IT equipment in your new office and we will stick to the moving plan to ensure everything is in the right place at the right time.
Office Furniture Clearance
We will dispose of your office furniture as part of your service from Nifty Business Movers. Usually, this part of your office move is forgotten about. We know it can be expensive in London. However, you can benefit from our experience of moving small and large office removals without compromising on service.