Contact Us Today
"*" indicates required fields
Office Relocations in London
What You Need to Know
Moving offices can be a daunting task, but with the help of professional office relocation companies, the process can be streamlined and hassle-free. London, being one of the busiest cities in the world, has a high demand for office relocation services. In this article, we'll discuss everything you need to know about office relocation in London, including why you should hire an office relocation company, the benefits of doing so, and how to choose the right company for your needs.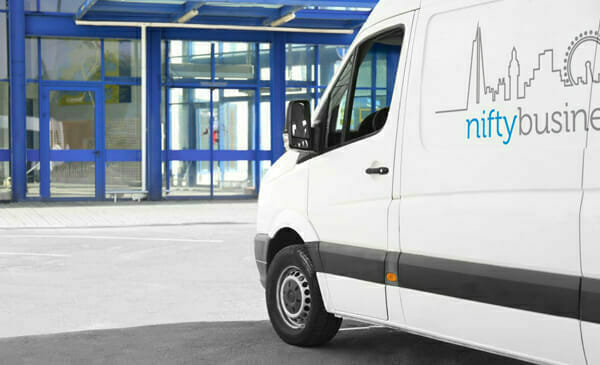 Why Hire an Office Relocation Company?
Moving an office can be a complex process, involving a lot of planning and coordination. Many office relocation companies can help you with every aspect of the move, from planning and packing to unpacking and setting up your new office. Just like Nifty Business Movers.
Here are some reasons why you should hire a professional office relocation company for your next office move:
Saves Time and Effort
When you hire a company to move your office, you can be assured that your office equipment and furniture will be handled with care. Professional companies use specialised equipment and packing materials to ensure that everything is transported safely and without damage. This reduces the risk of damage to your valuable assets and gives you peace of mind during the move.
Expertise and Experience
Office relocation companies have the necessary expertise and experience to handle every aspect of your move. They know how to plan and coordinate the move, pack your items efficiently, and transport them safely to your new office. This reduces the risk of delays and ensures that the move is completed successfully.
Reduce Downtime
An office relocation can disrupt your business operations, leading to downtime and lost productivity. Hiring a professional company can help you minimise downtime by completing the move quickly and efficiently. This ensures that your business operations are up and running as soon as possible.
Cost Savings
Although hiring an office relocation company may seem like an additional expense, it can actually save you money in the long run. Professional companies can help you avoid costly mistakes and delays, reducing the overall cost of the move. They can also help you negotiate better deals on equipment and furniture, saving you money on your office setup.
Peace of Mind
Moving an office can be stressful, but hiring a professional company can give you peace of mind. You can relax, knowing that everything is being handled by experts who have your best interests in mind. This can help you focus on other aspects of your business, such as client acquisition and growth.
Customised Solutions
Office relocation companies offer customised solutions to meet your specific needs. They can help you plan the move, pack your items, transport them safely, and set up your new office. They can also provide additional services, such as storage solutions and furniture installation. This ensures that your move is tailored to your unique requirements.
Choosing the Right Office Relocation Company
When choosing an office relocation company, it's important to consider the following factors:
Experience and Expertise
Choose a company that has a proven track record of successful office moves. Look for a company with experience and are local to you. They should know the area well and predict any issues or problems that may arise, such as parking, roadworks and peak-time traffic. Nifty Business Movers staff know London well and we are equipped for all eventualities. We've put some handy tips together for you in our Office relocation top tips guide.